KYBIO for IPTV Head-End
Improves & simplifies the monitoring of content streaming workflow
_______________________________
_______________________________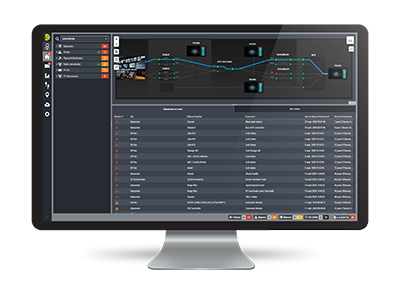 CONTEXT
IPTV services are highly popular for streaming content, whether it's for home viewing or on a smartphone. Although there are many IPTV providers with similar or totally different content, they share one main objective: deliver the best quality of signal to their audience, across their several diffusion vectors.
CHALLENGE
The IPTV distribution chains are highly complex and monitoring their streaming services is still relatively new. Providers' main objective in monitoring the streaming workflow is to ensure quality of signal and continuity. This means making sure the video and audio content is delivered across the entire chain with the expected quality and without loss of service, from acquisition to contribution, then distribution over on-premise infrastructures or hybrid networks.
In this particular case study, the IPTV operator [undisclosed name] was looking for a monitoring solution that would provide a high-level, unified and real-time view of the content streaming workflow before it is distributed to subscribers through their several distribution networks (xDSL, FTTH, OTT). As a huge organization with multiple technical teams working, often in siloes, on specific parts of the distribution, it was important to centralize all the relevant data and represent it as simply as possible for all teams to access. This can be complex due to the number of signal channels, equipment and possible pathways, so gaining in operational efficiency with a simple, easy-to-understand, and reliable monitoring solution is essential.
SOLUTION
KYBIO is an end-to-end and multi-vendor Monitoring and Control software for media and broadcast. It enables users to oversee their entire ecosystem across a single unified view, to centralize data, and to streamline the management of IP-enabled gear and technology. Highly scalable and open, KYBIO plugs into any third-party or in-house technology with open protocols and APIs, and functions on an open-driver policy. For IPTV operators who need to monitor highly complex infrastructures, KYBIO offers scale and resiliency.
Newly enhanced, KYBIO now includes a fully customizable dynamic workflow diagram which illustrates in a single, unified view, the real-time content streaming workflow - from input to output. Users are able to identify the active signal for each channel while displaying only the relevant broadcast equipment. With highly redundant pathways for the content streaming, the objective here is to:
- show which path is active at that moment -meaning, the path through which the content is passing.
- to monitor that the content is successfully delivered to each touchpoint and makes it across the entire chain, up to distribution.
In the back-end, KYBIO identifies the real path of each signal and on the front-end, displays the path dynamically on the dashboard. This complex operation is possible with the aggregation of several types of data by KYBIO; QoS, QoE and network information is gathered from third-party probes and analyzed by the software to create the current working path. Before KYBIO, it was not possible for this IPTV provider to identify information concerning the real path of each channel. Thanks to KYBIO, this is now a challenge overcome!
"With KYBIO, gain relevant insights
on your content streaming workflow, from input to distribution."

In addition to a dynamic workflow diagram, IPTV providers also benefit from KYBIO's other unique modules, enabling users to:
- collect Key Performance Indicators from the infrastructure,
- make actional insights by aggregating data from multiple equipment and locations, then transforming that data into comprehensible, visual insights and reports,
- use the analytics module to check SLA's on each equipment within the workflow.



Download the

C

ase Study

or learn more about

KYBIO Media

here.